Tampa Bay
Party and Balloon
727-242-5446
727-678-4237

​We've created a unique and refreshing collection of custom souvenirs ready to be imprinted with your logo. It's an effective promotional tool and a sure-fire winner for fundraising endeavors.
​We have low order minimums in order to make this exceptional promotional opportunity available to all of our current and future clients. Order larger quantities to receive the best pricing
"Nothing Says Party Like Balloons"

Custom Imprinting
Balloons, Gasparilla,
​ Mardi Gras Style Beads Polystone Medallions​
Imprinted Medallion Beads
​
​Put the feel of Mardi Gras or Gasparilla on your next marketing campaign with this fun bead necklace. With a large variety of color combinations to choose from, we know you'll find the perfect complement to your corporate or event logo. These are perfect for 5 K walks, as a metal of
completion
. Perfect for advertising or acknowledgement of
achievement
at everything from, Corporate employee events to parades and holiday celebrations. Features 7 mm or 10mm beads and a large plastic 2 1/2" medallion. Your price includes a one-color imprint on one side of this medallion. Multi-color and second side imprints are available for an added cost. Please call for more information.
Custom Balloon Imprinting
Custom Mylar or Latex Balloon Imprinting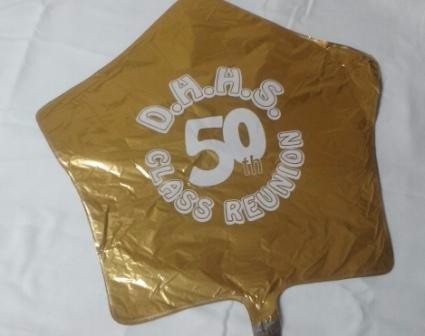 Price includes 1 color foil imprint on 1 side of a 2 1/2" plastic disc attached to a 7 mm 33" bead.
​Foil Colors: Gold, Silver, Copper, Purple, Red, Green, Black Gloss or Bright Blue

Disc Colors: Green, Navy, Purple, Red, Royal, White, Orange, Yellow, Brown, Pink, Granite, Burgundy, Glow in the Dark, Silver, or Black

Bead Colors: Dk. Blue, Green, Gold, Turquoise, Orange, Red, Hot Pink, Pink, Purple, Burgundy, Silver, Solid Black, Asst. Mix, or PGG Mix. Pearl- add 15¢ each.

Production Time: Approx. 3-4 weeks

Must order in dozens. 25 Dozen (300 pcs) 50 Dozen (600 pcs) 150 Dozen (1,800 pcs)

Custom Medallion Foil Imprinting
Custom Medallion Ink Imprinting
Ink Imprint Colors: Process Light Blue, Reflex Royal Blue, Green, Purple, Gray, Maroon, Burgundy, Orange, Red, Gold, Pink, Turquoise, Yellow, Metallic Gold, Metallic Silver, White, Black

Matching Disc & Bead: Royal Blue, Red, Green, Gold, Silver, Black, Purple, Orange, Navy White
Disc & Colored Bead: Royal, Red, Burgundy, Silver, Green, Gold, Black, Navy, Orange, Purple Neon Disc & Black Bead: Neon Orange, Neon Pink, Neon Green, Neon Yellow

Glow in the Dark Assortment: Green, Pink, Orange, Yellow
Matching Disc and Bead, both glow!

White Disc & Glow Bead Assortment: Purple, White, Pink, Orange, Green, Red, Blue, beads glow! Production Time: Approx. 2-3 weeks

​​Must order in dozens. 25 Dozen (300 pcs) 50 Dozen (600 pcs) 150 Dozen (1,800 pcs)
​
Please call for more information.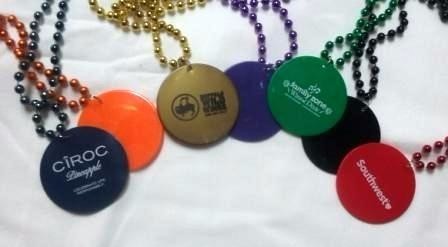 Are you looking for Buccaneer, Pirate, Gasparilla , Gay Pride, Dunedin Mardi Gras or St Patrick's Day Beads in Largo, Clearwater, Seminole, Pinellas Park, Tampa, Clearwater Beach, Bellaire Bluffs, Pinellas County, Pinellas, St Petersburg, St Petersburg, Safety Harbor, Oldsmar, Pasco County, Pasco, Port Richey, New Port Richey, Hudson, Tarpon Springs? Then you have found what you have been looking for!
Mardi Gras / Gasparilla Style Beads to fit any need. Beads of all shapes and sizes can be customized with a Corporate, School, or Event, logo, creating an eye catching, inexpensive, promotional product for trade shows, product launches, grand openings and company events. ​​
​
3D Poly stone medallions are clay based, and are hand painted
​
Company Parties
Parades
Corporate Events
​Sport Sponsors​
We have a wide assortment of beads. We can put a custom medallion on them.
​
Styles of beads range from Gasparilla to, Halloween, Christmas, Gay Pride, Weddings,
Birthdays
(in many different shapes), the possibilities are only limited buy your imagination.
​
Final cost will be determined upon final art approval. Production time is approximately 90-120 days after final art approval. Original digital art in the following formats: TIF, PNG, or JPEG (300dpi)
Order
Minimum
is 250 Pieces​​
Contact Us for estimate and lets create a lasting impression!
Custom Poly Stone Madallions